VOYAGERS Co-Working Retreats
We offer VOYAGERS opportunities to work and network in magical retreats in Europe.
Feeback from our first VOYAGERS Co-Working Retreat in Torchiara, Italy, in January-February 2023:
•"The last two weeks were some of the happiest I've had in a long time. It was pleasure to meet a bunch of super-smart founders and rub our brains. Thank you for enabling this!"
•"We had a great time! Thank you for giving us the opportunity."
•"I only have good things to say about the experience. It was a good mix of productive work, sightseeing and socialising; everyone was nice and impressed me with what they've been working on and achieved. I will definitely be joining in the future."
•"Location was fantastic, co-habitees were amazing, was a very inspiring week."
•"It was a fantastic opportunity to meet great people from different backgrounds, and I thoroughly enjoyed exchanging ideas and learning from the other VOYAGERS."
Our mission at VOYAGERS since 2019 has been to bring together mission-driven people to build friendships and enable positive outcomes. We're constantly experimenting to find ways to connect VOYAGERS to build trust, with weekend adventures in magical locations, dinners and meetups in 14 cities, online workshops, investment funds and much more. We've seen some amazing results, and have learned that special things happen when we get together in person.
Now we're going even further — offering VOYAGERS the opportunity to spend a week to a month working remotely with fellow VOYAGERS this winter in a carefully chosen Italian villa. We looked for a large private home in Europe that has a special atmosphere, is quiet yet accessible from a big city, has fast Wi-Fi and comfortable accommodation, yet is low-cost and big enough to combine personal privacy with communal socialising. And we found the perfect place: a tastefully modernised 19th-century villa outside Torchiara in the picturesque area of Italy's Salerno region, not far from Naples. We visited in advance to satisfy ourselves that it's up to VOYAGERS standards — and hosted our first VOYAGERS in January 2023.


This is the beautiful villa in southern Italy where we organised our first co-working retreat: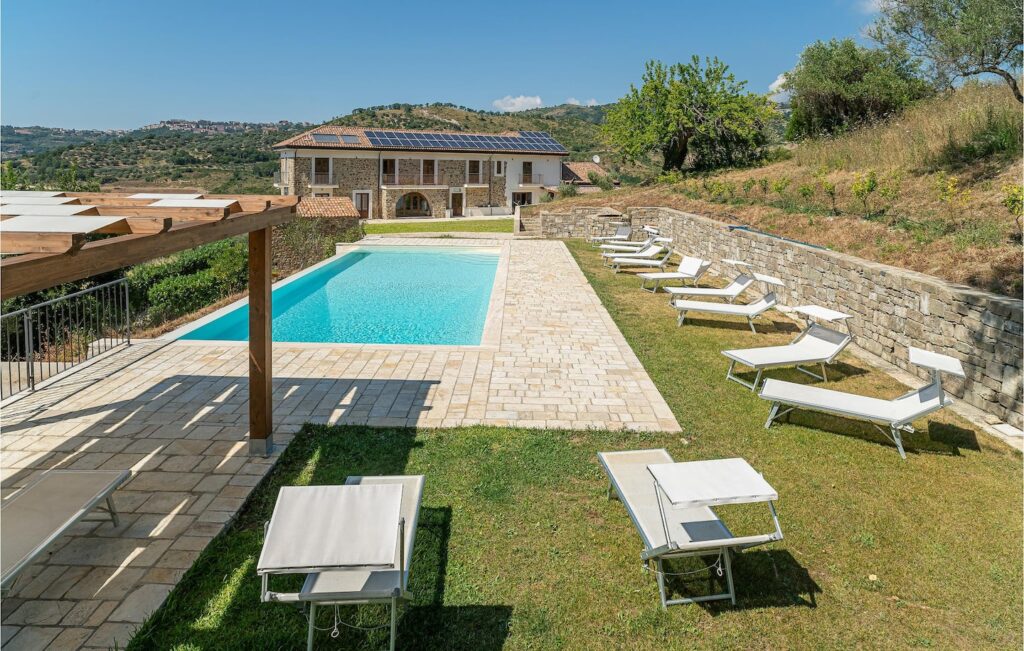 You can find more photos here.

The villa is equipped for groups, with a choice of spaces where you can work, relax and socialise. It's located near Torchiara village, 15 minutes from the sea and 10 minutes from a bigger village with plenty of amenities, and accessible by train from major Italian cities. It's not far from Pompeii and the stunning Amalfi coastline.

Participants had their own bedroom and bathroom (some joined with a partner) and stayed on a weekly basis, from Saturday to Saturday, for a minimum of one week to a maximum of four weeks. We managed to keep the cost — inclusive of utility bills, taxes, cleaning, and our team's time — to €490 per room per week for single occupancy.
Our community builder Mariana stayed in the villa in advance of our group, as she explored the nearby attractions. These are her impressions:
"Torchiara, the village near the villa, has the feel of Provence when you're not by the sea — the olive trees, the vineyards, the food. And then 10 minutes away you have the sea surrounded by unpretentious villages that offer seaside restaurants serving you fresh fish and Italian delicacies in a way you can no longer find in Amalfi or the big-name coastal areas.
"The house has a big communal kitchen where you can prepare delicious meals with local produce like mozzarella di buffala made the same day down in Agropoli, or artisanal bread from Azienda Agricola Biologica. Combine that with local organic wine that our host Giuseppe will recommend, and it's a magical thing to share. All rooms have air conditioning and the house is fully powered by solar panels, producing 70kW of electricity per day.
"Other than feasting on Mediterranean food, you have beautiful castles less than 20 min away, such as Castelo di Rocca Cilento; you have the beach with long seaside walks; and activities such as mountain biking, trekking, mozzarella making, horse riding and so much more. Runners will find the perfect path just outside the villa. And you can find incredible 500 BC Greek temples 15 minutes away from the villa in Paestum.
"I took away memories of exploring untouched villages, simple and fine dining, and best of all the pleasure of having a drink outside Tenuta Nuvola while the sun sets over the mountains in front of you."

The villa is a short distance from the village of Torchiara in the province of Salerno, in the Campania region of south-western Italy. The delights of Pompeii, Amalfi and Salerno are nearby. The nearest train station is Agropoli, on a direct rail line from Rome and Naples. The villa is 15 minutes from the train station. Agropoli offers car and scooter rentals.

The house has a communal kitchen equipped with everything you'll need for shared cooking experiences, the day-to-day meals and drinks. It's equipped with dishwasher, washing machine and dryer, espresso machine, several Moka pots, all the utensils you'll need, two stove tops, electric ovens, microwave. On the mountain side of the villa you'll find a big outdoor barbecue, which you can access via the lounge. The villa has a communal area with sofas and a dining table, and two kitchens equipped with all you'll need for preparing meals. We will encourage shared cooking, and one evening a week we will bring in a chef to cook for the full household.
Here's to building deeper connections among purpose-driven people in all sorts of effective ways.
What is VOYAGERS?
VOYAGERS is a peer-support of people working primarily in climate-tech and health-tech. We bring together specialist founders, investors and researchers in many geographies who commit to supporting each other. There's no fee to be involved, and VOYAGERS have done everything from start businesses together to make high-level introductions. Current activities include:
•Regular dinners and meetups in cities across Europe and North America
•Weekend adventures in magical locations
•Online networking in dedicated WhatsApp groups
•Zoom workshops where community knowledge is shared
•Shared directories of resources, from recommended suppliers to fundraising opportunities
•Email newsletters where VOYAGERS share their "asks and offers"
•Discounted products and services through VOYAGERS' negotiating power
•Co-working in VOYAGERS retreats
•Matching VOYAGERS with similar interests for curated introductory meetings
•VOYAGERS Cabins, small groups that meet monthly in confidence for moderated peer-coaching
•VOYAGERS investment funds, enabling VOYAGERS to back startups in the community.
Here's to building deeper connections among VOYAGERS in all sorts of effective ways.