Testimonials from past adventures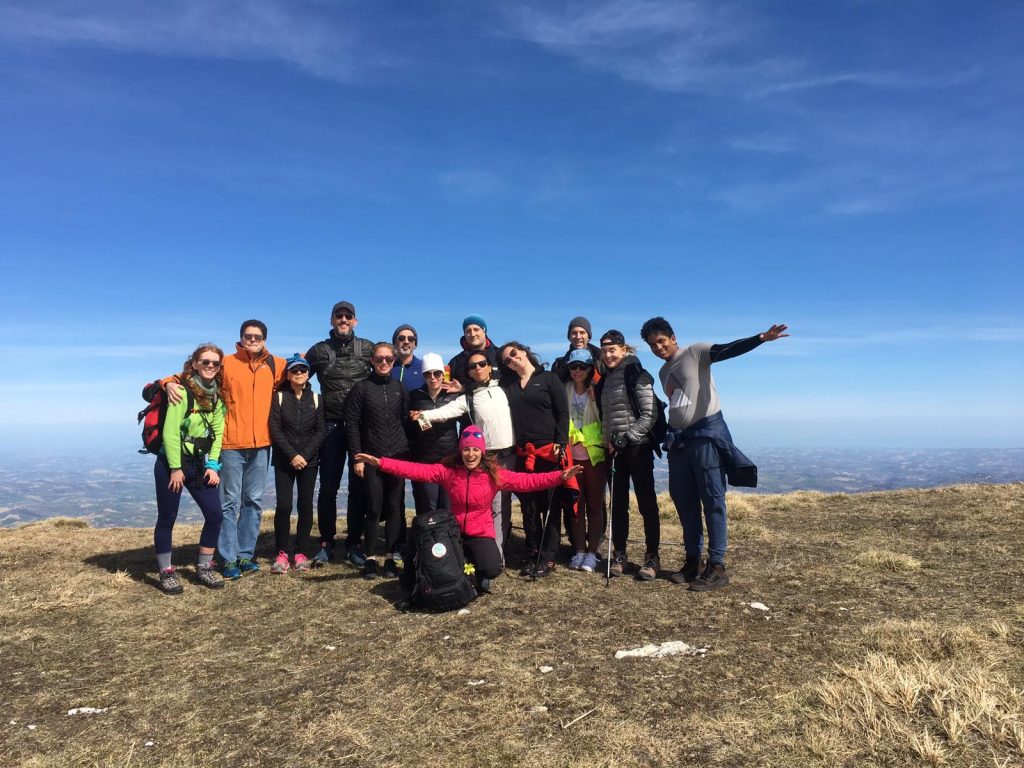 Some feedback from VOYAGERS' Italian Palazzo Adventure in March 2019:
"Thanks SO much for organising the amazing weekend in Italy. It exceeded my (already high) expectations and has seeded some wonderful new relationships, which I'm sure will bear fruit in interesting ways!" — LBQ, UK
"What an incredible adventure. Thank you so much for making it happen and bringing such amazing people together in an exciting environment. I'm grateful to be part of the community and more than happy to contribute in the future." — TG, SWEDEN
"It truly felt like I found my tribe and that I could just be myself and let down my guard. I realised that these incredibly interesting/accomplished/motivated/smart people had many of the same insecurities/vulnerabilities as me and that they were open about it all." —SI, USA
"The pace was incredible; the shift from one mini-adventure to another. There were real and different opportunities to meet new people. The people were from a variety of backgrounds/cultures/areas of expertise. The last hike, with those tremendous sea-views, was spectacular. I made what I think are rich and lasting friendships." — SH, UK
"It felt like everyone was up to something interesting in the world and was there to have meaningful conversations and to give. l loved the feeling of getting 'real' experiences that were well curated and done with heart." — MW, ISRAEL
"This was an incredible adventure with amazing people. I can't wait to join another adventure." — CRF, PORTUGAL
"Amazing four days of my life. Bringing home a container of new ideas, deep and meaningful conversations, and most importantly new friends from all over the world." — VP, UK
"Fantastic trip with an inspiring group of interesting and kind people. Had a wonderful time." — SM, USA
"A truly special few days that I'll never forget. Thank you for involving me." — PH, UK
"Thank you for including me. It was a wonderful and moving experience." — JR, USA
"An incredible weekend. All of us owe you a huge debt of gratitude for enhancing our lives with friendships, adventure and togas!!!" — DK, USA
"Many thanks for a wonderful weekend in Italy with a group of fantastic people." —GN, ISRAEL
"Thank you again for this amazing trip and for all the amazing friends I made. I return home full of good memories." — CC, FRANCE
"Seriously, such an amazing collection of human beings. I'll go back to my Carl Jung quote: 'The meeting of two personalities is like the contact of two chemical substances: if there is any reaction, both are transformed.' There were chain reactions all over the place and I want to thank you all for this feeling of transformation." — OA, UK
"Thank you again for this crazy opportunity that so many would have killed for. I had an incredible time and met some incredible people, so thank you thank you thank you! I really look forward to staying in touch with the rest of the tribe." — VB, UK
"Such a lovely group of people. It was the most fun and relaxing time I had in a very long time. I found everyone very welcoming and full of deep conversations." — TB, UK
"Honestly, I cannot put into the right words how blessed and lucky I feel to have met and get to know all of you! Truly this trip was very inspiring and left us full of energy to keep giving our 100%." — VP, ECUADOR
"I am so grateful for the the beauty and moments of pure connection." — GA, USA
"Words can't explain or even express how much this adventure and connections meant to me. Thank you all for the love, respect, understanding and the space to be vulnerable." — LH, UK
"Such a lovely trip this was — met such amazing people!" — KN, UK
Some feedback from VOYAGERS' Future Health Adventure in Iceland in October 2019:
"A huge thank you. I just had the most wonderful time. The volcano, hikes, swims, floating, the food, wine. Everything was brilliant. The whole thing was organised so so well, it was seamless and just so easy for us all to gain the most out of both Iceland and the group. I've made amazing connections, learnt a great deal and thoroughly enjoyed myself." — JD, UK
"Seamless organisation that flowed extremely well; a great deal of thoughtfulness about how to get the guests interacting and with the widest variety of different attendees. Many moments of feeling that I was connecting emotionally or intellectually with decent, interesting, curious people." — DL, UK
"The incredible quality, depth and diversity of participants even within the same industry; very smooth organisation and support throughout; felt confident and like I could 100% trust all aspects of the trip. Unforgettable learnings." — LC, Portugal
"Thank you so much for these magical moments you created. It takes a lot to reach that level of perfection. The secure environment you managed to create, leading people to being vulnerable and share. The mix of people you brought together. All senses stimulated — views, music, food, wine, touch, making it a truly unique experience." — HG, UK
"Thanks for the wonderfully curated group and tour, very grateful for being part of it. I'm amazed by the depth of relationships and trust forged in a day or two." — RC, Israel
"What a wonderful adventure this has been, transformational in so many ways. I feel very grateful for being invited. Looking forward to this being just the beginning." — MP, UK
"Thank you all for an amazing experience! It's obvious that a lot of work went in to making this such a great experience for us to share." — CT, Denmark
"The group you brought together was incredibly inspiring, thought-provoking and generous. I've made many good friends who I'll be in touch with for years to come and hopefully one or two investors. You guys are incredible!" — SM, USA
"Amazing. Thank you for such a wonderful experience." — EV, Switzerland
"I wanted to thank you very much for letting me be part of this experience and meet amazing people working on highly inspiring projects." — MPL, Peru
"Thanks again for the invitation and for the great event! Some of the contacts are very promising." — VS, Israel
"We traversed mountains, some of which from within – imagine going 120 meters *into* the heart of a volcano! We floated in warm geothermal springs, we had delicious meals… But the amazing part was that this was all done while having a lively discussion about our ventures in healthcare, our challenges and learnings. David Rowan and his team have created the best networking environment one can hope for. We had so much FUN! This is something you don't get in any conference. It is a perfect way to combine business and pleasure with an opportunity to learn from others." — RW, Israel
"Amazing, amazing trip — really can't thank you enough." — HB, UK
"Thank you again for having me. Unsurprisingly it was a high-quality event and thoroughly worthwhile few days. A great group of people and enough time to make real connections." — DVL, USA
"Thank you so much! I am so glad I contacted you, and that I finally decided to go. I met amazing people and saw amazing things (wow that trip will be hard to top!)." — AS, Spain
"All 45 people were interesting, creative individuals, and very pleasant to be around. The itinerary was fun and well-planned to make the most out of our time. Overall, it was an incredible adventure, and it is clear that a vast amount of creativity, care and effort were put into curating it." — RR, Israel
"The range and variety of people… by age, geography, and pursuit. The detailed planning. The atypical, curated activities. Opportunities to break into smaller groups as well as full group activities. The feel of quality without being ostentatious." — SB, USA
Some feedback from VOYAGERS' Edinburgh Fringe Festival Adventure in August 2019:
"It was truly exceptional and exceeded every last wild expectation I had! Such an amazing experience from start to finish. Thank you to all but especially to the incredible team that made it all happen." — JC, USA
"A completely genuine and sincere thank you — such an amazing and magical week in Edinburgh. Really, one of the most unique and enjoyable experiences I've ever had the privilege of being a part of. I have lived a week in only 3 nights, and yet it passed in the blink of an eye. Your ability to bring a group of people together, as people and not job titles, and in just the right mix, was incredible." — DG, Israel
"Very grateful to shared so many brilliant and meaningful memories together. Such a giving, curious and humble group and absolutely flawless execution. It's going to take me a day or two to relearn how to make any decisions again. I do quite a few of these kinds of trips and can confidently say this one now tops my list. The people, content, location, organisation were all magnificent." — RY, UK
"It truly was a magical few days. Thank you very much for making the trip so fulfilling and memorable." — AA, USA
"Such an unmitigated absolute delight… This was truly my DREAM TRIP. Pinching myself. A dozen provocative shows, a warm and terribly interesting group of new friends, scenic picnics, and why not throw in a historic castle?! How lucky are we." — MG, USA
"WOW! Experiment was off the hook and no feathers pulled or 'say better' needed. Your fastidious attention to EVERYTHING and gentle nudging and corralling was masterful." — TS, USA
"What a delight — I enjoyed learning about new ways of telling stories, to each other, and from the unexpected. Incredible curation and timing." — RM, USA
"What a treat to be part of this creative and dynamic group. I would like to thank each one of you for contributing to this phenomenal experience. I am grateful for these precious moments we all spent together." — PSS, USA
"What an incredible group and experience! Can't wait until the next gathering!" — BP, USA
"So, OMGGGGG Edinburgh. That's really all I can say. That and thank you times a zillion. Just filled out my feedback form, but in no way captured the magic. I so hope you are basking in the glow of creating/facilitating what people have said was 'a cult-like experience without the creepy'. Or at the very least, that you've had a proper nap." — LE, USA
"Thank you again for all of the hard work put into our Edinburgh Fringe trip, it was indeed unforgettable." — SS, USA
Contact david@voyagers.io for any questions.