Spanish Camino Climate-Tech Adventure
On September 15 to 18 2022, VOYAGERS will bring together 50 people working in climate-tech for a four-day adventure in Galicia, northern Spain. This is a not-for-profit long weekend, bringing together startup founders, investors, and researchers working on the latest advances in climate-tech. We asked 2021's participants in this adventure: "Overall, how would you rate the adventure on a scale from 0 [worst] to 10 [best]?" Their average score was 9.4 out of 10.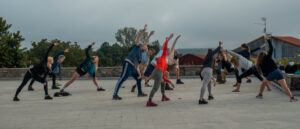 This will be a mainly outdoor adventure in stunning scenery, with activities designed to build connections among the group. We are minimising indoor activities and putting anti-COVID safety measures at the heart of our planning.
WHO WILL YOU TRAVEL WITH?
This will be an international group of founders, board members, investors, regulators and more. You must be working in a climate-tech role. Our 2021 climate-tech adventure in Portugal included participants from the US, Israel, Sweden, Spain, Portugal, Germany, France, Switzerland, the UK, Norway, Estonia and beyond — working in bio-agriculture, electric vehicles, carbon accounting, new materials, synthetic biology, bio-engineered plants, flying wind turbines, plastic-free sportswear, smart batteries, textile upcycling and more.

Thank you so much for these magical moments you created. It takes a lot to reach that level of perfection. The secure environment you managed to create, leading people to being vulnerable and share. The mix of people you brought together. All senses stimulated — views, music, food, wine, touch, making it a truly unique experience.
WHAT WILL THE PROGRAMME LOOK LIKE?
This four-day, three-night adventure will combine a bespoke guided hike along parts of the historic Camino de Santiago de Compostela trail, with afternoon pickups taking us to our magnificent accommodation — in two luxuriously converted monasteries. There is also an option to extend your trip for a fourth night and hike a little further or simply hang out with your new friends.
PLEASE NOTE: ALL PARTICIPANTS NEED TO BE WORKING IN CLIMATE-TECH — whether as a founder, investor, adviser, researcher, executive officer, or otherwise. You will need to have been fully vaccinated against Covid.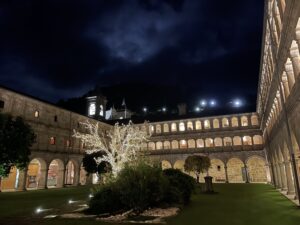 The formal schedule will begin with a 4pm welcome reception on Thursday at our beautiful home, a converted Benedictine monastery near Ourense, the Parador de Santo Estevo. (The nearest airports are Santiago de Compostela and Porto.) We'll get to meet each other over a lavish dinner after you've relaxed in the hotel spa, before post-dinner games and storytelling. After breakfast on Friday, we'll start our hike directly from our hillside hotel. The route, which will not be demanding if you are fairly fit, will be broken up with visits to special sites, and mid-afternoon we'll be collected and driven back to the hotel for a special dinner and more storytelling. On Saturday morning we'll be taken back to our walking route for a health day's hike, and in the afternoon we'll be met by our transport to be taken to our second special residence, Parador de Monforte de Lemos. On Sunday after breakfast, after being driven to a prime part of the trail, we'll take a short walk into Santiago de Compostela, the culmination of the historic Camino de Santiago pilgrimage route. In Santiago de Compostela there is an international airport for your flight home.
Those who choose to stay for an extra day can join us on Sunday night in a Santiago de Compostela hotel where we will block-book rooms. We will offer these rooms at cost.
WHAT'S INCLUDED
We will take care of you from the moment you arrive at our hotel near Ourense, in Spain, on Thursday September 15 2022 until the moment we say farewell in Santiago de Compostela on Sunday September 18 2022. We provide:
Three nights' accommodation in two excellent Parador hotels, which are beautifully renovated historic buildings: two nights at Parador de Santo Estevo; and one night at Parador de Monforte de Lemos

All meals: breakfasts, lunches and dinners from Thursday afternoon until Sunday afternoon

All drinks, alcoholic and non-alcoholic, taken with the group

The guided hikes and all other scheduled activities, including visits to local sites

All transport for the duration of the scheduled adventure (you will need to arrange your own travel to and from northern Spain and airport transfers to and from our meeting points)

Transportation of your luggage between our hotels

The VOYAGERS gift pack (save some luggage space to take it home)

The services of the VOYAGERS production team

Advance curation by the VOYAGERS team, including two extended site visits

A few extra surprises we will announce nearer the event.
OPTIONAL FOURTH NIGHT: Some participants will extend their stay on Sunday night. We will block-book a hotel in the heart of Santiago de Compostela and will offer rooms at cost.
FITNESS LEVEL
This will not be a strenuous hike — we will move at a moderate pace designed to be comfortable to the group. But we will be walking for around five hours a day (with breaks) and you will need to be fairly fit (consult your physician if in doubt). You will not carry luggage or backpacks — we will transport these between our hotels.
CANCELLATION POLICY
We will collect a €250 deposit to hold your place. You can cancel your place, for any reason with no questions asked, for a full refund until August 1 2022. Our refund policy is as follows:
If our hotels cancel our booking because of Coronavirus restrictions, or if Spain formally bans international travel from the country where you live, before August 20 2022, a full refund will be paid.
If the adventure goes ahead as planned, but you are not able to participate:
UNTIL AUGUST 1, 2022 (Midnight GMT): All fees paid are refundable in full, NO questions asked.
UNTIL AUGUST 20, 2022 (Midnight GMT): You will receive a refund of all fees paid, excluding your booking deposit, minus a 50% cancellation fee.
AFTER AUGUST 20, 2022 (Midnight GMT): No refund will be payable to you. You will however be given a €300 non-transferable and personal credit towards a future VOYAGERS event or adventure valid for 12 months from the date of cancellation.
Please note: We are limited to just 50 places, and are likely to be oversubscribed. We will curate the group to ensure a diverse mix of lovely people. We welcome partners who engage with the group as active participants.