Edinburgh Fringe Festival Adventure
On August 8 to 11 2023, we will take 40 people to experience the magnificent chaos that is the Edinburgh Fringe Festival. We'll take over a beautiful 18th-century castle outside Edinburgh with connections to Mary Queen of Scots, so that we have an oasis of calm to return to after each day's cornucopia of performances. We'll use our arts-media network to get tickets to shows that stimulate and intrigue, but we'll also make time for spontaneity, for participants to find and drop into some of the off-beat, unique offerings that make the fringe so special. Our team has designed this adventure to balance the guided and critically filtered with the utterly unpredictable, so participants experience the festival at its best.
WHAT WILL THE PROGRAMME LOOK LIKE?
For the third year we're bringing together a creative gathering of hand-picked VOYAGERS from around the world, with a range of activities designed to build strong friendships. We'll experience up to five hand-picked shows a day, and will then savour the day's adventures over dinner at some of Edinburgh's most charismatic restaurants. After that, you can choose to retire to the castle for late-night games and storytelling – or continue to make merry until the last shuttle home.
Read feedback from our last Edinburgh Fringe Adventure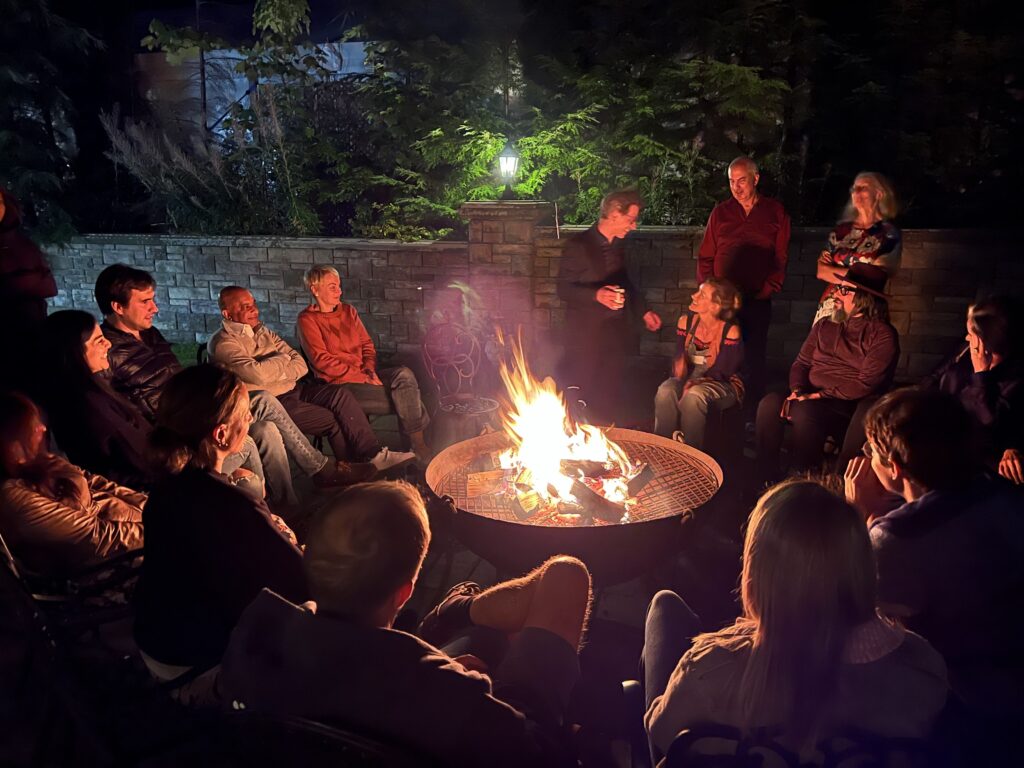 We're also bringing some of the festival's most gifted visiting artists to our castle to connect and create with us. Throughout the adventure, participants will enjoy a VOYAGERS take on the Edinburgh lifestyle — from a hike up Arthur's Seat to a guided whisky tasting, stargazing and our famous "walking podcast".
Read feedback from participants in our last Edinburgh Fringe Festival Adventure.

A completely genuine and sincere thank you — such an amazing and magical week in Edinburgh. Really, one of the most unique and enjoyable experiences I've ever had the privilege of being a part of. I have lived a week in only 3 nights, and yet it passed in the blink of an eye. Your ability to bring a group of people together, as people and not job titles, and in just the right mix, was incredible.
WHAT'S INCLUDED
We'll take care of you from the moment you arrive in our home, Carberry Tower, just 8 miles from the centre of Edinburgh, until the moment we close with a farewell lunch on Friday. Your place include:
Three nights' accommodation at Carberry Tower. We have exclusive use of the castle's accommodation, and the run of its 40 acres of private estate parkland, home to sweeping lawns, landscaped ponds and parkland deer

All meals: castle breakfasts, seated dinners and lunches for all three days

The VOYAGERS welcome drinks reception after your arrival serenaded by a bagpiper

All drinks, alcoholic and non-alcoholic, taken with the group

Tickets for four or five recommended shows each day on Wednesday and Thursday (if you still have capacity for more, our team will be on hand to help you to obtain tickets to additional shows at cost)

All scheduled activities, including whisky tasting, hikes, and a special creative workshop on Friday with visiting artistic talent

All transport between our castle and Edinburgh for the duration of the scheduled adventure (you will need to arrange your own travel to and from Edinburgh)

The VOYAGERS gift pack (save some luggage space to take it home)

The services of the VOYAGERS production team

Advance curation by the VOYAGERS team, including two extended site visits

The additional services of arts journalists and festival insiders who'll guide us to the "hot" tickets

A few extra surprises we'll announce nearer the event.
We asked 2022's participants: "Overall, how would you rate the adventure on a scale from 0 [worst] to 10 [best]?" Their average score was 9.6 out of 10.
CANCELLATION POLICY
We will collect a £300 deposit to hold your place. You can cancel your place, for any reason with no questions asked, for a full refund until June 25 2023. Our refund policy is as follows:
•UNTIL JUNE 25, 2023 (Midnight GMT): All fees paid are refundable in full, NO questions asked.
•UNTIL JULY 13, 2023 (Midnight GMT): You will receive a refund of all fees paid, excluding your booking deposit, minus a 50% cancellation fee.
•AFTER JULY 13, 2023 (Midnight GMT): No refund will be payable to you; but until July 31 2023 you may connect us with someone you have found to take your place, subject to the VOYAGERS organisers' approval.
Please note: We are limited to just 40 places, and are likely to be oversubscribed. We will curate the group to ensure a diverse mix of lovely people. We welcome partners who engage with the group as active participants.