Iceland Climate-Tech Adventure
On May 25 to 28 2023, we'll bring 50 climate-tech VOYAGERS to Iceland for a special three-night adventure, collaborating with David Helgason's extensive climate-tech network in Iceland. We're running this weekend at cost, with a mission to build close friendships among VOYAGERS working across a diverse range of climate-related projects from many geographies – startup founders, investors, researchers, activists and many more. We asked participants on our last Iceland adventure: "Overall, how would you rate the adventure on a scale from 0 [worst] to 10 [best]?" Their average score was 9.2 out of 10.
WHO WILL YOU TRAVEL WITH?
This will be diverse international group of founders, board members, investors, regulators and more, all working in climate-tech. We ran an Iceland adventure in 2019, with participants from the US, Israel, Taiwan, Sweden, Spain, Portugal, Germany, France, Switzerland, the UK, Norway, Estonia and beyond — and we will build on our knowledge and local networks to plan an unmissable agenda.
Here are some testimonials from our 2019 VOYAGERS Iceland adventure (pictured above):
"A huge thank you. I just had the most wonderful time. The volcano, hikes, swims, floating, the food, wine. Everything was brilliant. The whole thing was organised so so well, it was seamless and just so easy for us all to gain the most out of both Iceland and the group. I've made amazing connections, learnt a great deal and thoroughly enjoyed myself." — JD, UK
"Seamless organisation that flowed extremely well; a great deal of thoughtfulness about how to get the guests interacting and with the widest variety of different attendees. Many moments of feeling that I was connecting emotionally or intellectually with decent, interesting, curious people." — DL, UK
"The incredible quality, depth and diversity of participants even within the same industry; very smooth organisation and support throughout; felt confident and like I could 100% trust all aspects of the trip. Unforgettable learnings." — LC, Portugal
"The group you brought together was incredibly inspiring, thought-provoking and generous. I've made many good friends who I'll be in touch with for years to come and hopefully one or two investors. You guys are incredible!" — SM, USA

Thank you so much for these magical moments you created. It takes a lot to reach that level of perfection. The secure environment you managed to create, leading people to being vulnerable and share. The mix of people you brought together. All senses stimulated — views, music, food, wine, touch, making it a truly unique experience.
WHAT WILL THE PROGRAMME LOOK LIKE?
This four-day, three-night adventure begins and ends in Reykjavik, for easy flight connections, but will be mostly spent in the rugged countryside in the south-east of Iceland. There is also an option to extend your trip for a fourth night.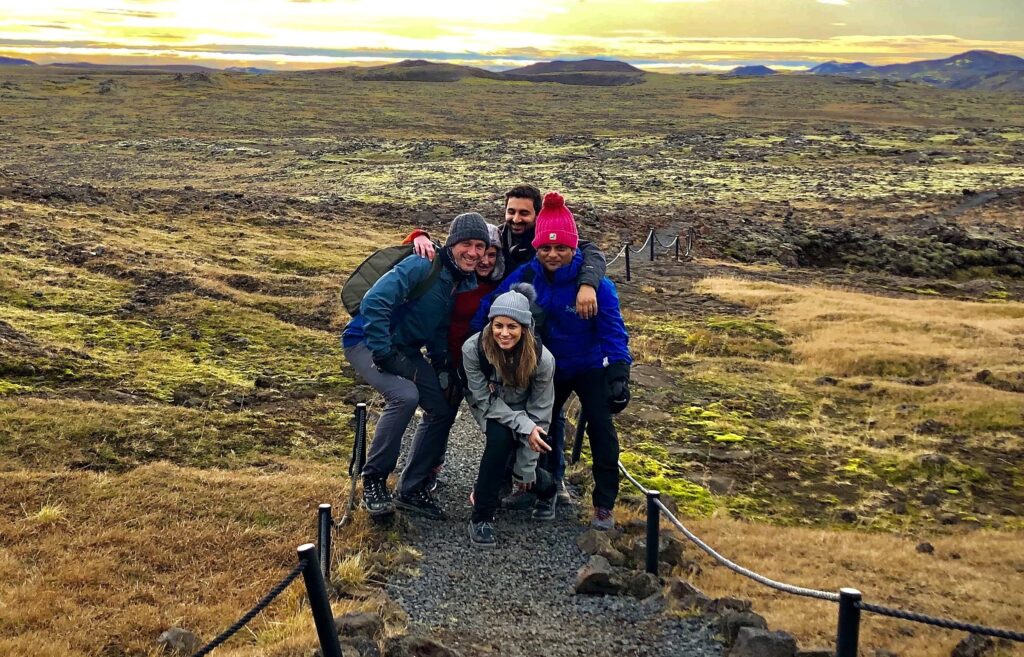 Our official schedule starts on Thursday morning in central Reykjavik. After some local morning exploration, we'll share a headphone hike through the city centre hearing fellow VOYAGERS' stories as we walk. We'll finish at the harbour, where we'll enjoy a relaxed lunch before being picked up and taken to our base, the rural Grímsborgir Hotel. Amid beautiful surroundings, you can relax with a welcoming hot swim. Hotel Grímsborgir is located 70km east of Reykjavik in the heart of the Golden Circle, nestled on the bank of the River Sogid surrounded by stunning landscape. All hotel rooms come with balcony or terrace and access to some of the 29 geothermal hot tubs on site, both private and shared.
Later in the evening, we'll gather for our official welcome dinner at the hotel, where we'll get to know each other over some traditional Icelandic delicacies. As part of every VOYAGERS gathering, we'll conclude the day with some storytelling and late-evening group games such as Werewolf (a VOYAGERS tradition).
Friday will be a full day in nature, with a visit to local geothermal pools, and the opportunity to explore the nature around the pools. After lunch we'll share a guided cycle ride before some well-deserved downtime where you'll be able to unwind at our hotel's Jacuzzi and pools. After dinner at the hotel, we'll bond over an evening of games and good conversations.
Saturday is an intense day of outdoor activities. We'll be rafting in the Golden Circle (with relatively mild rapids, ideal for both beginners as well as those who have rafted before), exploring the beautiful glacial river Hvítá, the White River.
There's an additional option today: instead of rafting, you can choose to explore inside an inactive volcano (at an extra fee). This experience involves a memorable descent 120 meters to the bottom of the crater in an open cable lift, after which you are free to wander inside the dormant Þríhnúkagígur volcano, which last erupted over 4,000 years ago. The hike that leads to the crater offers amazing views.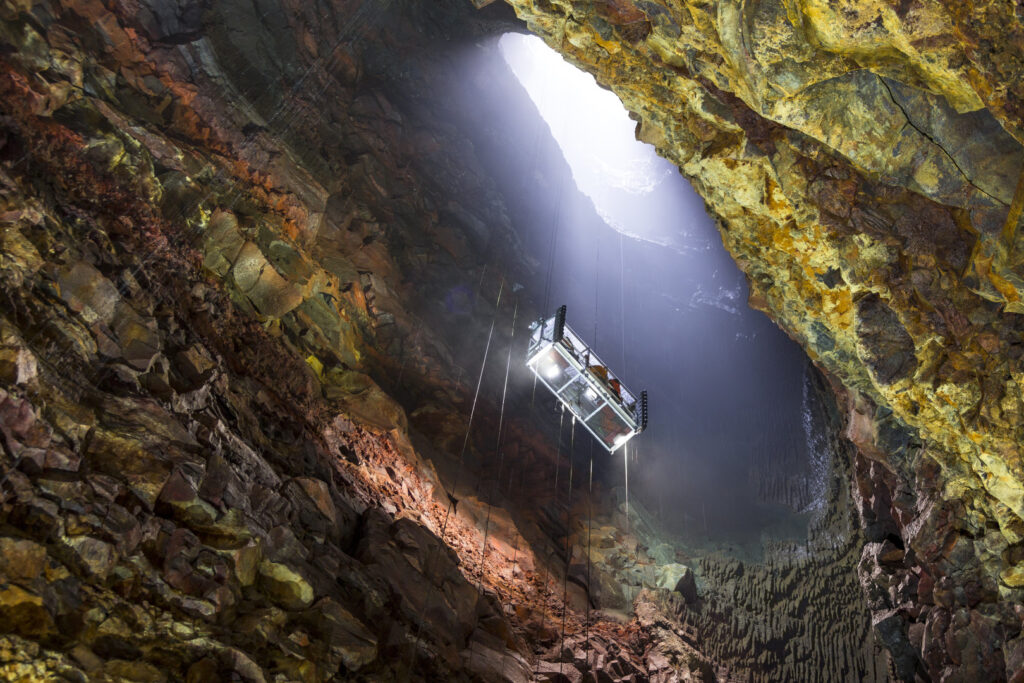 Later on Saturday afternoon we'll travel back to Reykjavik and check in to the Odinsve Hotel. We'll transport your luggage, so it's one less thing to worry about. Relax and then join our evening bar crawl in the city with local friends, followed by our farewell dinner at the Ocean Cluster House, with a view to the harbour. We're planning a final afterparty on Saturday night.
Most Sunday flights from Reykjavik depart in the morning, so we have not scheduled any formal activities for the Sunday. But we are looking at arranging visits to climate-tech companies.
WHAT'S INCLUDED
We'll take care of you from the moment you arrive in central Reykjavik, on Thursday May 25 2023, until the morning of Sunday May 28 2023. We'll provide:
Three nights' accommodation in two excellent hotels: two nights at Grímsborgir Hotel in the countryside, and one night in Reykjavik at the Odinsve Hotel

All meals: breakfasts, lunches and dinners from Thursday morning until the end of Saturday

All drinks, alcoholic and non-alcoholic, taken with the group

The guided hikes, cycle tour, rafting and all other scheduled activities, including visits to local sites

All transport for the duration of the scheduled adventure (you'll will need to arrange your own travel to and from Iceland and airport transfers to and from our meeting points)

Transportation of your luggage between our hotels

The VOYAGERS gift pack (save some luggage space to take it home)

The services of the VOYAGERS production team

Advance curation by the VOYAGERS team, including extended site visits

A few extra surprises we will announce nearer the event

An amazing group of ambitious climate-tech VOYAGERS to build new friendships with

OPTIONAL EXTRA ACTIVITIES
ICELAND INNOVATION WEEK
We've partnered with Foobar for this adventure. Foobar invests in and supports startups, invests in technology, and develops processes to accelerate global decarbonisation and sustainability. The Foobar team will be present at Iceland Innovation Week, taking place just before the VOYAGERS adventure, and will organise their own Climate Summit called OK, BYE on Wednesday May 24. You're invited to join: the Iceland Innovation Week team has offered VOYAGERS a 50% discount on the attendee pass, which will give you access to the whole Innovation Week. To obtain the discount, use discount code VOYAGERS at checkout.
OK, BYE is not your normal startup conference, but rather a performance, where talks and discussions will be intertwined with artistic happenings, music, and visual approaches. For a day the venue will be turned into an Icelandic summer located somewhere between the now and the future. The name "OK, BYE" refers to the first Icelandic glacier lost to climate change, Ok-jökull. The former glacier once covered 16 square km but has melted to a fraction, and is no longer considered a glacier. Here's a documentary about it.
OPTIONAL WEDNESDAY-NIGHT HOTEL STAY 
If you arrive Iceland on Wednesday May 24 for the OK, BYE summit, we've block-booked rooms at ALDA Hotel and are offering them at cost. The cost will be €115 if you're sharing a room, or €180 for single occupancy, including breakfast. When we send you a booking form, let us know if you'd like to reserve a room.
OPTIONAL "INSIDE THE VOLCANO" EXPERIENCE 
The visit to the dormant Volcano is an add-on to the adventure as it's an expensive yet fantastic experience. There will be an added €240 cost (which goes entirely towards your ticket; VOYAGERS does not benefit). A ticket includes the Volcano Experience and lunch. If you choose to join the Volcano Experience, you will not join the rafting trip.
FITNESS LEVEL
You will not need to be particularly fit to participate in this adventure. We'll be hiking but at a moderate pace designed to be comfortable to the group. You won't carry luggage or backpacks — we'll transport these.
CANCELLATION POLICY
We will collect a €300 deposit to hold your place. You can cancel your place, for any reason with no questions asked, for a full refund until April 15 2023. Our refund policy is as follows:
UNTIL APRIL 15, 2023 (Midnight GMT): All fees paid are refundable in full, NO questions asked.
UNTIL MAY 1, 2023 (Midnight GMT): You will receive a refund of all fees paid, excluding your booking deposit, minus a 50% cancellation fee.
AFTER MAY 1, 2023 (Midnight GMT): No refund will be payable to you; but before May 17 2023 you may connect us with someone you have found to take your place, subject to the VOYAGERS organisers' approval.
Please note: We are limited to just 50 places, and are likely to be oversubscribed. We will curate the group to ensure a diverse mix of lovely people. We welcome partners who engage with the group as active participants.