Portugal Wine-Harvest Adventure
For the third year, we're taking 50 VOYAGERS to Portugal's wine country in September 2023 for a three-day networking adventure. This adventure had feedback of 9.4 out of 10 in 2021. That's because we carefully curate the agenda to connect people at a deep level - through activities ranging from river trekking to treading grapes in a Douro Valley vineyard.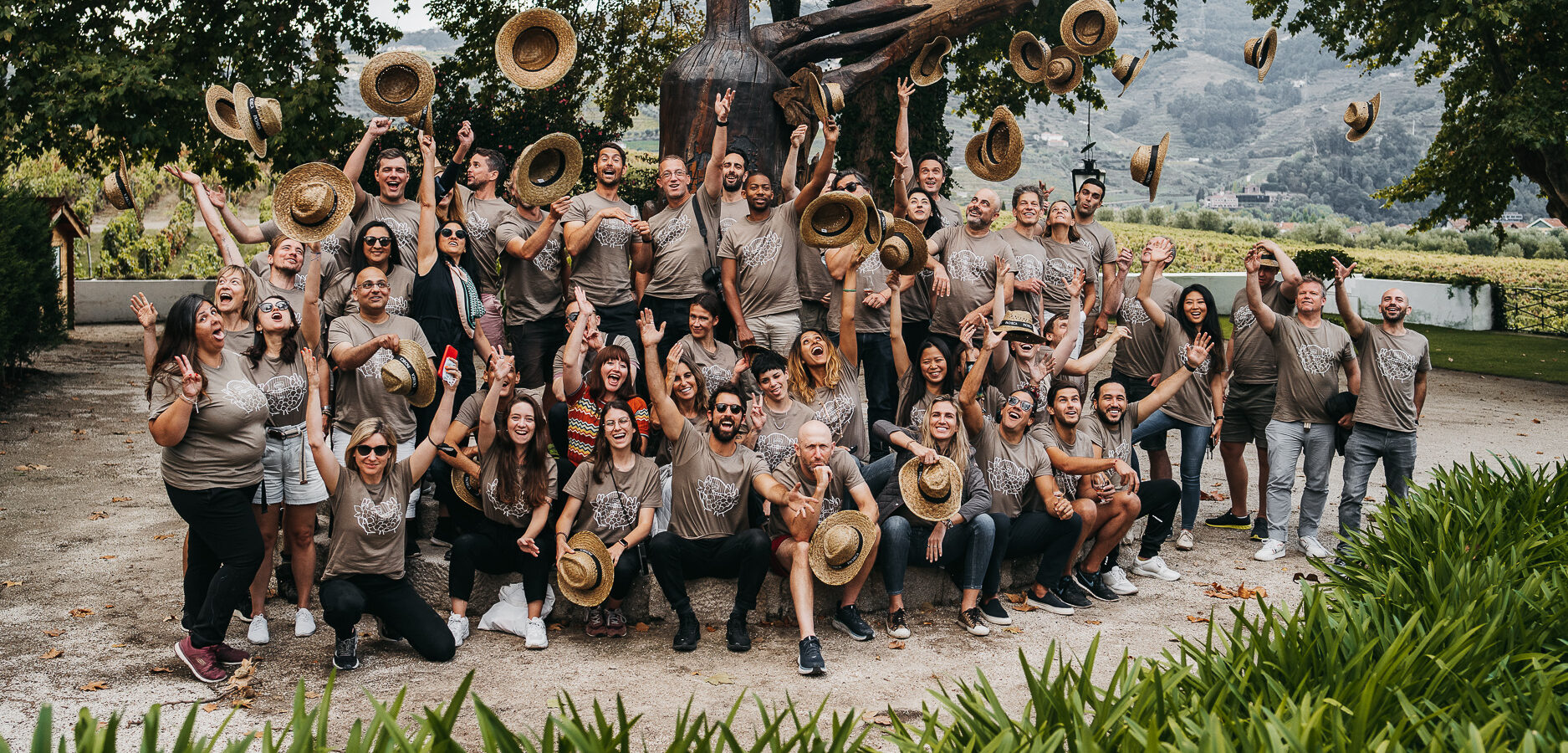 After epic 2019 and 2021 VOYAGERS weekends here, we're returning for a carefully designed harvest-time adventure in the stunning wine country of northern Portugal's Douro valley. From Thursday to Sunday (four days and three nights), 50 VOYAGERS will share a memorable bonding weekend actively participating in the wine harvest — picking grapes, treading them with our bare feet, and especially tasting the award-winning results as we get to enjoy the finest wines of the region. The mission is to use these shared experiences to enable meaningful friendships — connecting people across geographies and industries to be there for each other and solve some of the group's challenges. Because magic can happen when stories are shared and trust is built.
WHAT WILL THE PROGRAMME LOOK LIKE?
Our home for the long weekend will be the Douro Palace hotel and spa, at a beautiful location on the banks of the Douro River. The modern hotel has an outdoor swimming pool, with panoramic views of the terraces of the Douro, and a spa with heated indoor pool with a waterfall, sauna, hammam and treatment rooms.
The adventure will begin on the Thursday afternoon, when we will gather by the pool for welcome cocktails as we start to get to know each other. We'll learn some of each others' stories and then settle into the formal opening dinner at the hotel. Every VOYAGERS adventure is packed with opportunities to make new friends through curated activities, and we'll sample local ports and wines together under expert guidance, followed by late-evening group games such as Werewolf.
Friday will be wine-harvest day. We'll be hosted by one of the region's most gorgeous and historic vineyards, where we'll be picking grapes with local workers — before treading the grapes in the traditional way in giant vats, to the music of a local accordion band. We'll enjoy the best of regional food and drink over a group lunch, and will explore some local village highlights together.
Saturday will be a day for outdoor activities on the Douro River, which originates in Spain and flows across northern Portugal towards Porto, the country's second-largest city. Your activity choices will include river trekking, jet-skiing, canoeing, water-skiing, and stand-up paddling.
We'll enjoy a stunning bike ride and river activities before a farewell lunch on Sunday in a historic restaurant in central Porto, after which you can choose to extend your trip for your own explorations or begin your journey home.

It was an incredible experience! Many events I've been to say there will be a diverse range of participants; this was the first to fully deliver on that. The activities were great fun; the venue was stunning; the people were exceptional.
WHAT'S INCLUDED
We will take care of you from the moment you arrive in our hotel in the Douro valley, around 1h 15m drive from Porto airport or central Porto, until the moment we close our farewell Sunday lunch. We recommend the 1h 20m scenic train journey from Porto's Campanha station to Aregos station, and we'll provide your ticket — you'll arrive just a four-minute drive from the hotel, and we can pick you up from the station.
Three nights' accommodation in the comfortable Douro Palace spa hotel

All meals: breakfasts, lunches and dinners from Thursday afternoon until Sunday afternoon

All drinks, alcoholic and non-alcoholic, served with the meals

All scheduled activities, including arranged outdoor activities, the wine-harvest visits, river activities, etc

All transport for the duration of the scheduled adventure (you will need to arrange your own travel to/from Portugal and airport transfers to the hotel and from our farewell lunch in central Porto)

Your guide book with participant biographies, and professional photography during the trip

The VOYAGERS gift pack (save some luggage space to take it home)

The services of the VOYAGERS production team

Advance curation by the VOYAGERS team, including two extended site visits

A few extra surprises we will announce nearer the event.
We asked 2021's participants: "Overall, how would you rate the adventure on a scale from 0 [worst] to 10 [best]?" Their average score was 9.4 out of 10.
CANCELLATION POLICY
We will collect a €200 deposit to hold your place. You can cancel your place, for any reason with no questions asked, for a full refund until July 25 2022. Our refund policy is as follows:
If our hotels cancel our booking because of Coronavirus restrictions, or if Portugal formally bans international travel from the country where you live, before August 15 2022, a full refund will be paid.
If the adventure goes ahead as planned, but you are not able to participate:
UNTIL JULY 25, 2022 (Midnight GMT): All fees paid are refundable in full, NO questions asked.
UNTIL AUGUST 15, 2022 (Midnight GMT): You will receive a refund of all fees paid, minus a 50% cancellation fee.
AFTER AUGUST 15, 2022 (Midnight GMT): No refund will be payable to you. You will however be given a €300 non-transferable and personal credit towards a future VOYAGERS event or adventure valid for 12 months from the date of cancellation.
Please note: We are limited to just 50 places, and are likely to be oversubscribed. We will curate the group to ensure a diverse mix of lovely people. We welcome partners who engage with the group as active participants. [Photography and drone video footage by Chris Hahn.]