Swiss Alps Snow Adventure
On March 23 to 26 2023 (Thursday to Sunday), we'll bring 50 members of the VOYAGERS family on a special weekend snow adventure in the Swiss Alps. We're running this weekend at cost, with a mission to build close friendships among VOYAGERS working across a diverse range of industries and geographies – startup founders, investors, researchers, activists and many more.
WHAT WILL THE PROGRAMME LOOK LIKE?
This three-day adventure will make the most of the mountainous Gstaad region of western Switzerland, easily reachable by one of Europe's most stunning train journeys. Here's a map of the extensive mountain runs — 200km of ski slopes nestled between 1,000 and 3,000 metres above sea level. We'll conquer slopes together, share stories, play late-night games — all activities designed to build meaningful connections as you make significant new friends. And, of course, we'll enjoy the best of local food and drink, in some very special locations.
•See photos from our March 2022 Gstaad adventure
•See feedback from our March 2022 Gstaad adventure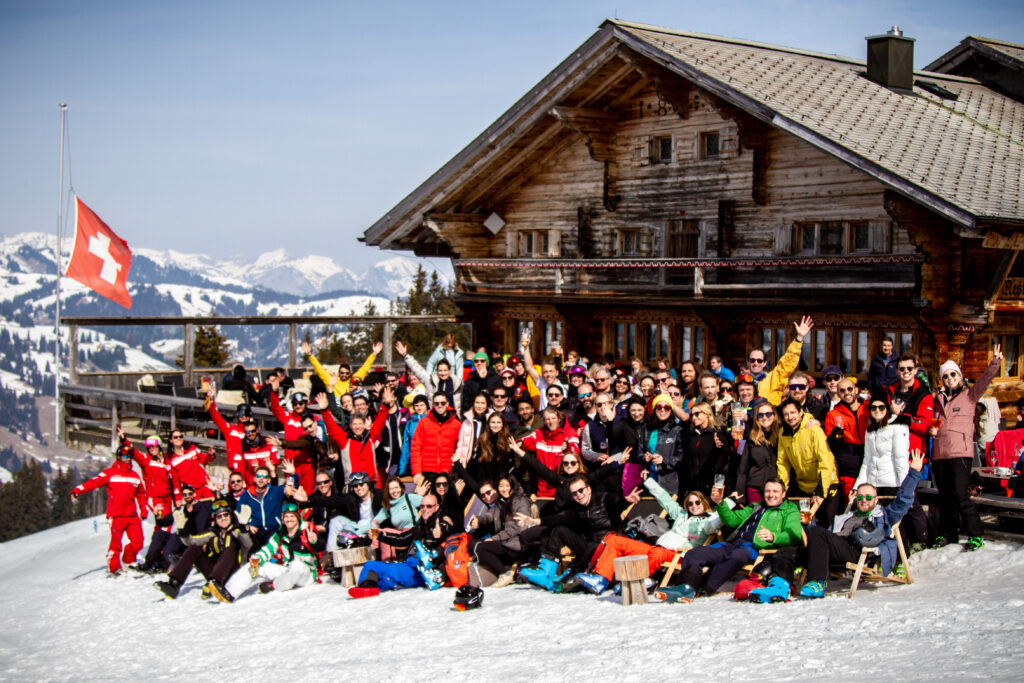 Our official schedule starts on Thursday afternoon, with drinks and canapés on the terrace of our cosy base, the super-comfortable HUUS Hotel Gstaad, which has its own spa, pool, gym and ski shop. Later in the evening, we'll gather for an official welcome dinner at the hotel, where we'll get to know each other over some traditional Swiss delicacies. As part of every VOYAGERS gathering, we'll conclude the day with some storytelling and late-evening group games such as Werewolf (which has become a VOYAGERS tradition).
On Friday, we'll enjoy our first full day of skiing and snowboarding on the local mountains, including a group lunch with panoramic views. We'll provide your ski pass as well as ski guides (at various skiing levels), who will take care of our group throughout the day. In the afternoon, we'll return to our hotel for some well-deserved downtime, where you'll be able to unwind at our hotel's spa, sauna and pool. After some spa time, we'll head to an organic farm in the nearby village of Château-d'Œx, operated by farmers of the fifth generation – all in a fully sustainable and regenerative way. You'll learn how to make cheese, take care of the farm animals, and more. In the evening, we'll get to know our new friends even better over dinner at a traditional fondue restaurant. We're planning an after-dinner bowling tournament over drinks at a nearby alley.
Saturday is another full day of mountain sports followed by spa time. After dinner in a historic building in nearby Saanen, we'll gather for a party featuring the informal VOYAGERS talent extravaganza (you're welcome to share any skill, but no pressure if you're shy).
Our formal agenda will end after our last morning of skiing and a farewell lunch on Sunday at HUUS. You can ski for the rest of the day, continue your adventure yourself, or begin your journey home.
The adventure will bring together VOYAGERS from our climate-tech and health-tech communities, as well as VOYAGERS working in unrelated fields where they're delivering impact.
Here are some testimonials from our 2022 VOYAGERS adventure in Gstaad, including:
•You have blown my mind by how you curate and create magic between a group of strangers. Thank you for giving more than we could ever return. Everything was perfect. — JD
•A most wonderful trip — immediately useful for my business, personally endlessly rewarding. — AS

The group you brought together was incredibly inspiring, thought-provoking and generous. I've made many good friends who I'll be in touch with for years to come and hopefully one or two investors. You guys are incredible
WHAT'S INCLUDED
We will take care of you from the moment you arrive in Saanen, near Gstaad, on Thursday, until the moment we say farewell on Sunday. We provide:
Three nights' accommodation in the HUUS Hotel in Saanen, near Gstaad

All meals: breakfasts, lunches and dinners for all three days

All drinks, alcoholic and non-alcoholic, taken with the group

Mountain (ski) passes for three days

Ski guides/instructors for the group, from beginners to off-piste

All visits, entertainment and other scheduled activities

All transport for the duration of the scheduled adventure (you will need to arrange your own travel to and from Saanen: we recommend the spectacular train journey)

The VOYAGERS gift pack (save some luggage space to take it home)

The VOYAGERS production team's services

Advance curation by the VOYAGERS team, including two extended site visits

A few extra surprises we will announce nearer the event.
FITNESS LEVEL: We welcome skiers and snowboarders of any level. We will arrange ski guides for beginners, intermediate, advanced and off-piste groups. You will need a moderate level of fitness for the slopes.
Please note: We are limited to 50 places, and are likely to be oversubscribed. We will curate the group to ensure a diverse mix of lovely people. We welcome VOYAGERS' partners who engage with the group as active participants.
CANCELLATION POLICY
We will collect a 300 CHF deposit to hold your place. You can cancel your place, for any reason with no questions asked, for a full refund until February 1 2023. Our refund policy is as follows:
•UNTIL FEBRUARY 1, 2023 (Midnight GMT): All fees paid are refundable in full, NO questions asked.
•UNTIL FEBRUARY 23, 2023 (Midnight GMT): You will receive a refund of all fees paid, excluding your booking deposit, minus a 50% cancellation fee.
•AFTER FEBRUARY 23, 2022 (Midnight GMT): No refund will be payable to you; but until March 15 2023 you may connect us with someone you have found to take your place, subject to the VOYAGERS organisers' approval.